The best care for your best friend
Compassionate Care
We want your dog to enjoy their life to the max so we offer a multi modal approach to help them achieve this.
 Our services include physiotherapy, water based physiotherapy with underwater massager, acupuncture, home exercise plans and environmental adaptations.
Professional Therapists
Our therapists are passionate, experienced and dedicated to improving your dog's health and well-being. We invest so much love and attention into our patients. It is an honour to be part of their journey
Bespoke Clinic
Our new clinic has been built specifically to provide the highest standard of care to your loving pet. From the floors to the walls to the lighting, your dog's needs and requirements have been the driving force behind all our decisions.
Our bespoke pool is built to make your dog's hydrotherapy session enjoyable and therapeutic. Designed with easy access and an extended platform inside the pool to help our golden oldies or our first timers who may be a little scared to take the plunge. 
It is also heated to a toasty 32 degrees to enhance your dog's treatment. 
What we offer
Physiotherapy

There are many different treatment techniques that may be employed by the small animal physiotherapist, which may include a combination of land and water-based therapies, such as:
Therapeutic handling techniques
Electrophysical therapies
Proprioceptive rehabilitation
Manual and massage therapies
Movement therapies
Behaviour modification enrichment techniques
Aquatic therapies and hydrotherapy.

Hydrotherapy

Water based physiotherapy utilises the unique physical properties of warm water, together with skilled therapeutic handling techniques, specialised equipment, manual movement and proprioceptively enriched techniques to improve movement and function on land.Pool water is maintained at 32 degrees Celsius, which is of great benefit therapeutically, as it results in vasodilation, increasing blood flow, assisting in relief of muscle tension and improving cardiorespiratory output.

Acupuncture

Traditional Chinese Veterinary Medicine suggests acupuncture enhances blood circulation, nervous system stimulation and the release of anti-inflammatory and pain relieving hormones.
It involves the insertion of needles into specific points on the body tissue where nerve bundles and blood vessels come together.
These collection of nervous and vascular tissue are termed acupuncture points, which course over all aspects of the bodies surface on meridians (energy channels). Each acupuncture point has specific actions when stimulated.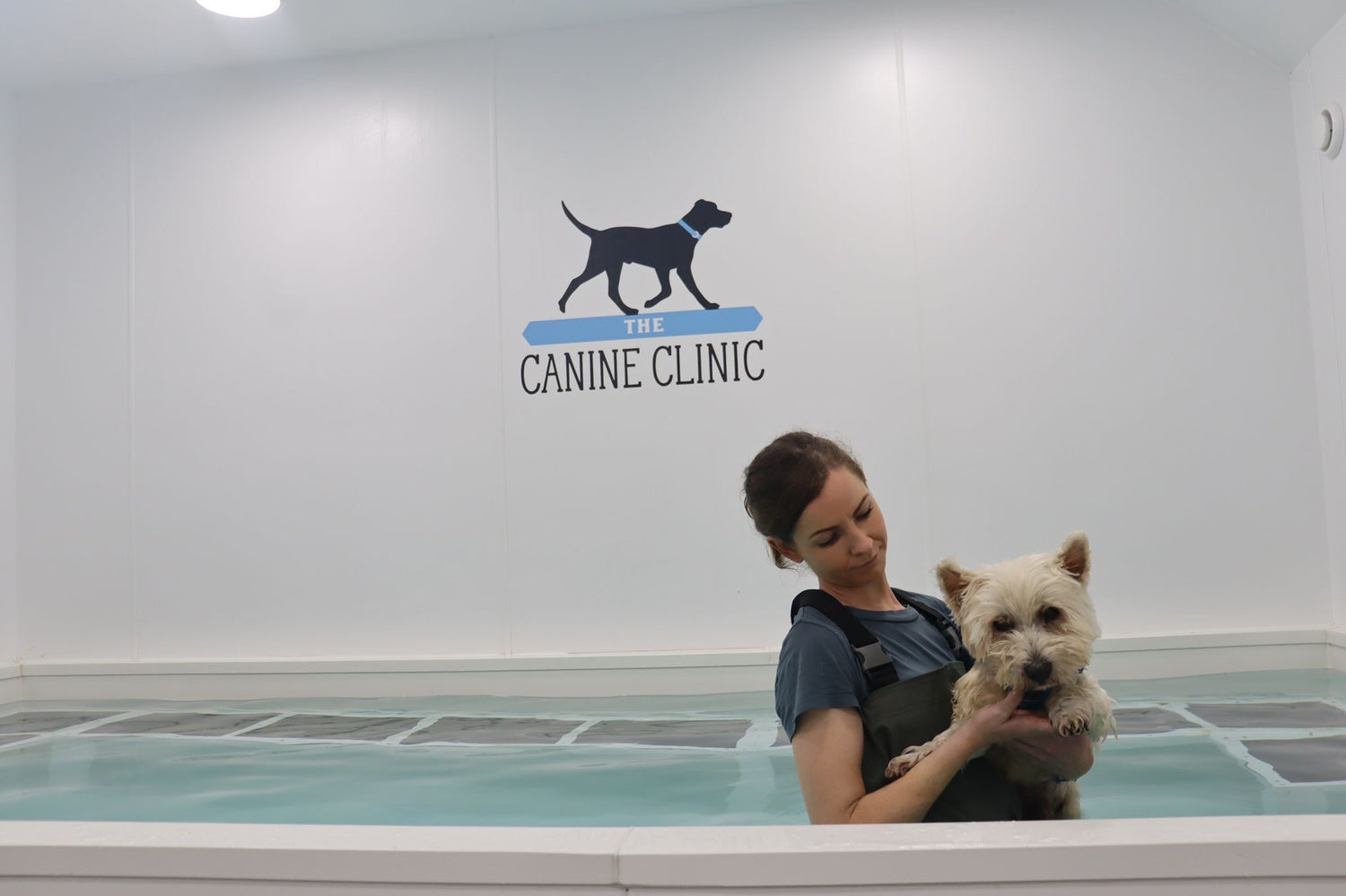 How to get an appointment
Step 1:
Ask your vet to fill out our online referral form.

Step 2:
Once we receive your referral we will be in contact with you to book an appointment.
Step 3:
You can also email thecanineclinic@gmail.com or text 0851563460 to follow up on your referral
Please note our phone is unattended during the day as we are back to back in sessions. Email/WhatsApp or text is the quickest way to make contact with us.
Referral Form
Featured products
Regular price

Sale price

€61,00 EUR

Unit price

per

Regular price

Sale price

€39,00 EUR

Unit price

per

Regular price

Sale price

€6,00 EUR

Unit price

per

Regular price

Sale price

€6,00 EUR

Unit price

per

Regular price

Sale price

€25,00 EUR

Unit price

per

Regular price

Sale price

€16,00 EUR

Unit price

per

Regular price

Sale price

€16,00 EUR

Unit price

per
Where to find us
Unit 3 Westlink Business Park,
Doughcloyne Industrial Est,
Sarsfield Road,
Cork.
T12E297
Phone: 0851563460
Email: thecanineclinic@gmail.com